Pembuka Selera / Appetizer
The Cliff Green Crisp
Fresh Garden Green Salad, Tomatoes, Cucumber, Onion, Olives, Feta Cheese, Lemon Vinaigrette or Balsamic Dressing
The Cliff Caesar Salad
Romaine Lettuce, Shaved Parmesan, Crouton Bacon Bits Grilled King Prawn or Chicken
The Cliff Club Nicoise
Green Beans, Vine-Ripened Tomato, Kalamata Olives, Feta Cheese, Rare-seared Tuna, Poached Egg.
Baked Canelloni of Seafood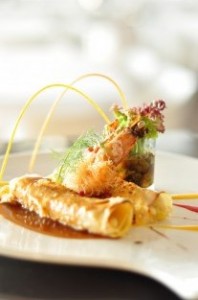 Crispy Prawn, Tomato Salsa Fresca, Light Creamy Pepper Sauce
Beras Basah
Rice Paper Roll Filled with Salmon, Crabmeat, Chef Vegetables and Chili dipping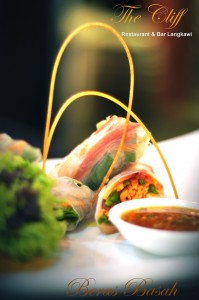 3 – Sekawan
Gratinated Scallop, Deep Fried & King Prawn
Ikan Pandan
Deep-Fried Fish in Pandan Leaves, Onion Chili Mango Salad Thai Chili Dressing
Sup / Soup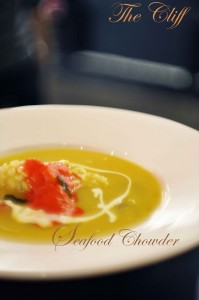 Seafood Corn Chowder
Prawn, Squid Flower & Blue Mussel – Roasted Red Capsicum
The Cliff Sup Ekor Lembu
"mamak" Style Oxtail Soup – New Potatoes
Tomato Soup
Oven-roated Tomato Soup – Poac
hed Quail Egg & Nuts Stick
Tangkapan Nelayan
Fish, Prawn, Shell fish, Seafood
Ikan Ketumbar Beras Basah
Fish Curry "Ketumbar" Leaves, Okra, Eggplant & Onion
Pulau Payar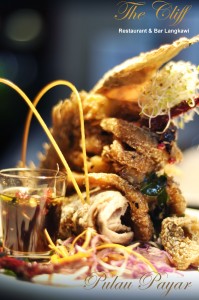 Deep- Fried Fish- "Assam Jawa Madu"
The Cliff – 2 – Musim
Duo of Asian-marinated Baked & Steamed Pamelo Tamarind Fish fillet. Filled with Otak-otak Seafood.
Kukus "Hidangan Nyonya"
Steamed Fish – Ginger, Coriander, Light Soy Sauce – Garlic Oil
Kukus Asam-Ko
Steamed Fish – Lime, Garlic, Ginger, Dried Plum Gravy with Local Kerabu Salad
Udang Kara Hijau
Green Lobster with Choice of Asian Cooking:
"Grilled/ Braised", "Yellow Turmeric Curry" or "Hitam Manis"
Ketam Chili Besar
Steamed & Wok-fried Crab – Chili Onion Paste
Ketam Lada Sarawak
Stir-Fried Crab – Sarawak Black Pepper, Ginger & Bell Peppers
Udang Sungai Kilim
Braised King Prawn & Banana in Curry Masala Gravy

Satan Lemak Badam
Braised King Prawn in Creamy Cashew nuts Curry, Chili Paste Malay Kerabu Salad
Tanjung Rhu
Oats Butter King Prawn, Fragrant Egg Floss, Chili Corn Kennel
Ketumbar Tukun Perak
Fish Fillet, King Prawn & Sea Scallop
Curry "Ketumbar" Leaves, Okra, Egg Plant & Onion
Sampan Besar
All in One- Lobster, Prawn, Fish, Crab, Mussel with Birani Rice
For -4 pax
Kaki "2 & 4"
Meat & Poultry
Chili Kerinting
Stir- Fried Chicken with Dried Chili & Cashew nut
Ayam Goreng Lada
Wok-fried Chicken – Chili Onion Paste
Kampung-Kampung
Wild Free Range Chicken Curry- New Potato
The "Cliff" Rendang Tok
Traditional Braised Beef, Galangal, Ginger, Lemongrass, Turmeric, Chili & "Kerisik"
Kari Mat Cincang
Mat Cincang Beef Curry-Potato, Deep Fried Shallot
Kambing Teluk Nibong
Braised Lamb Shank in Spiced Coriander, Tomato, Yogurt Gravy
Famous Slow-cooked Mutton Masala
Your Choice of Side
Ketam Bunga: Fried Rice with Crab Meat, Egg, Onion & Tomatoes
Nasi Briyani Badam: Briyani Rice – Almond & Raisins
Phad Thai: Wok- Fried Rice Noodles with Egg, Tofu, Bean Sprouts, Chives & Prawn
Steamed White Rice: A Bowl of Piping Hot Fragrant Rice
Mashed Potato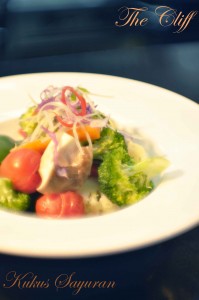 Garlic Bread
Potato Wedges
French Fries


Your Choices of Vegetables
Fresh From Market
Chef Recommended style of cooking
Western to The Coast
Stone Grilled Black Angus Sirloin
Grilled Aussie Ribeye
Aussie Tenderloin
New Zealand Rack of Lamb
Pan-Basting Duck Breast
Ballotine Chicken
Pan-Seared Tasmanian Salmon Fillet
Soba Noodles aglio Olio – Orange Capers Salsa
Andaman Barramundi
Lychee & Longan Chili Compote – Crispy Golden Prawn, Mango Dragon Fruit Chili Salsa
Malaba Grouper Paupiette
Mushroom Ragout – Grilled Sea Scallop
Lobster
Green Rock Lobster with Choice of Western-cooking:
Creamy Thermidor or Stone-grill Homestyle with Chef's Condiment
The Cliff Seafood Grilled
All-in One plate "Fusion Style" – Green Lobster, Grilled King Prawn, Fish Tempura, Soft Shell Crab, Chili Paste Green Mussel – Garden Vegetables
For 4 Pax
Boiling rom The Cliff Kitchen Pot
Au Jus, Green Peppercorn Sauce, Black Pepper Sauce, Mint Sauce, Rosemary Sauce,
Herbs (Dill/Thyme/Basil) Cream Sauce, Cheese Cream Sauce
Si Mulut Manis
Dessert
Tiramisu
Fruits Salad – Chocolate Decor
The Cliff Citronella Mousse
Banana Almond Fritter – Vanilla Sauce
Mak Andam
Madly-Mousse, Tart, cake – Ice cream
Pantai Cenang
Pineapple Strudel, The Cliff Cheese cake – Berries Compote
Walnut Brownies
Pure Cream  – Chocolate Decor
Cheese Platter
Dried Prune & Apricot – Homemade Crackers
Buah-Buahan Tropica
Tropical Sliced Fruits Platter
Sejuk Sejuk / Your Choice of Ice-Cream- Baskin Robbins
Vanilla
Strawberry
Rainbow
Chocolate